Erection Training FAQ's
⚠️ nudity
Before the erection training FAQ'a this demonstrates - all the aspects involved in ErectionKaizen...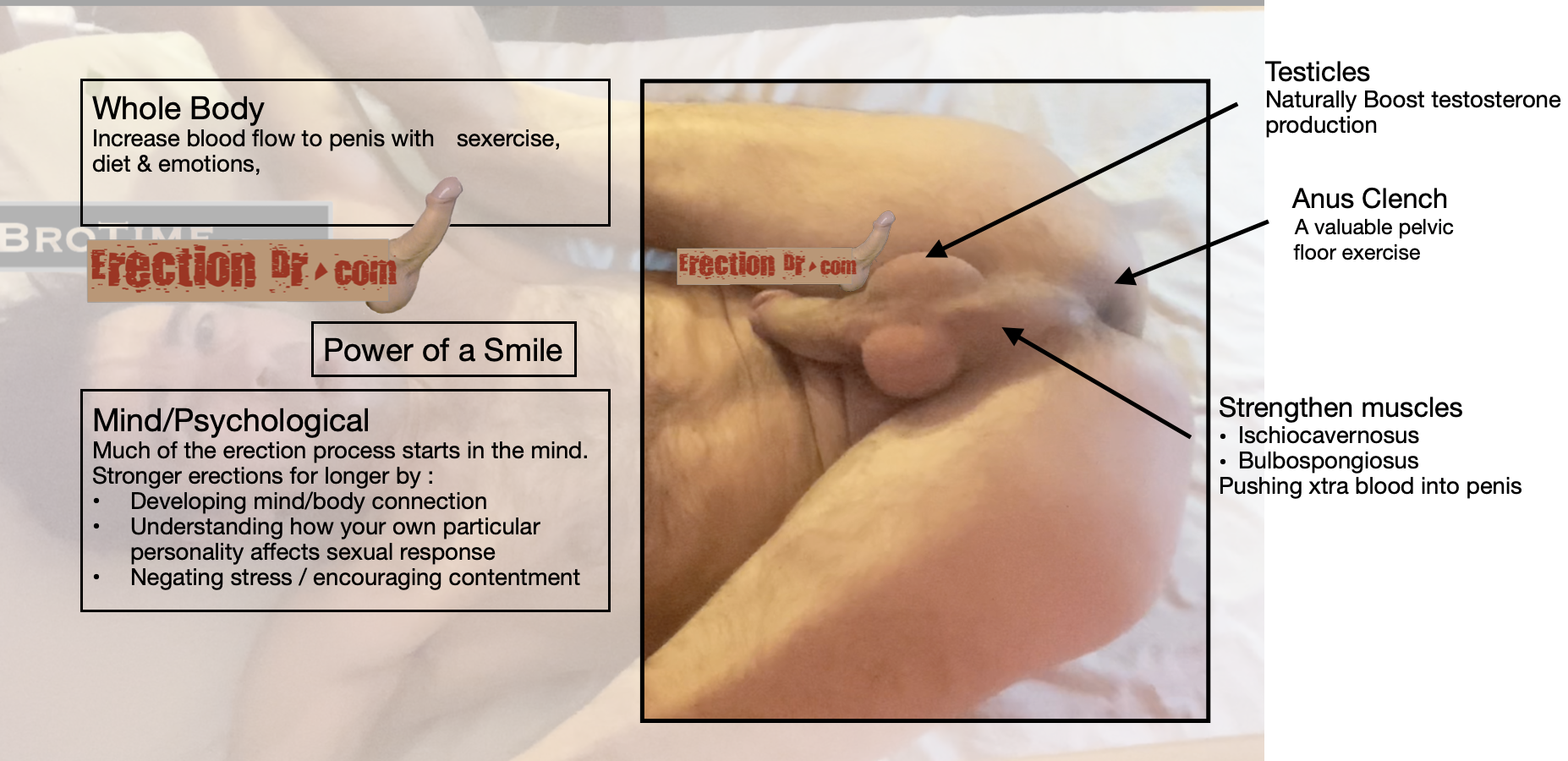 Questions all about the erection training.....

`if your question is not answered here than contact me

Questions about the actual exercises
Erection Training

Having tried the videos you have available on your website what else could I expect from a 1:1 session?




The 1:1 sessions go into more depth and show you different things - the videos are a taster as I do not want to give all my secrets away and save the important techniques for my clients on the programme and having the 1:1 sessions. The 1:1 sessions are quite personal, as you can probably imagine, and so I would need to ask your level of personal which ranges from clothed all the way through to naked with touch in some different personal places. The touch is not essential - it is more to get feedback to check contractions and tone, but you would need to let me know your preferences. The best way is what ever you feel comfortable with.


Do you think we can make my erection harder?




Over 90& of the time my answer is:

Yes!

If accepted, due to suitability, on to the Erection Coaching Programme I'll give you some erection coaching that if you follow over the next few weeks - will definitely make your erection harder! Continue with the 5 minute exercises and simple lifestyle change for life and you should have great erections for life. It really can be that simple - you just have to want it. Then you will put the work in! But it is enjoyable work! What could be better than exercising your penis!

I live in the wild North West of England, would one session be of benefit if I travelled down?





As we live a fair way from each other and it may just be a one off session or infrequent sessions - a longer session would mean that I would have the time to assess what would help you the most - develop your own training programme for home, plus give time for you to learn all aspects and familiarise yourself with it so that you can be independent with your training. However, whatever session you choose we will endeavour to achieve this and it will definitely help you. I will then be available for support to help you when you are back home and practicing your new lifestyle! So yes this will definitely be of benefit to you.


Erection Training - Why Wouldn't you?!

Nudity
A bit confused about the nudity. Are we both naked? Sorry if this is a stupid question.


Don't worry - I don't think any question stupid - as this training is a bit different!

I do as you do - if you stay clothed or in underwear, so do I. If you go naked I also go naked - that way you'll feel more comfortable, unless you're happy for me to stay clothed.


However I have been asked for different situations such as gradually getting naked or training in dressing gown so if there is something that you would like to ask then please do.





Does the erection training involve touching each other in any of the exercises?




The training does involve touching if you are comfortable with that - I first ask to check. 

Any touch is only in the context of health & fitness training as opposed to a sexual service.




I associate being hard with feeling sexually aroused...what do I do during the session if it really works is sexuality to be ignored?




Sexuality is not to be ignored as it does form a big part of this training. The more sexual you feel the better. That said the training does not require an erection - as we are training the body systems that all contribute to the erection process and so you will get stronger erections in the future. But if you do get an erection then that is all good. 




Does anyone ever orgasm in your sessions? Including you yourself? Are we allowed to physically feel each other's erections?




Whilst physical touch is part of the training orgasms are not - unless they happen by accident. I never orgasm myself as I give professional training. There are many establishments near me though that can help with that side of things!



Looking Forward to Your Session

Do I need to prepare anything for next week's appointment or is it a case of turning up and we can take things from there?




The very best thing you can do is look forward to your erection training session and relax as much as possible - as this allows your body to work at optimum levels and makes some of the techniques that I will show you easier to accomplish! However I do realise this is easier said than done, so all you have to remember is: for you to feel comfortable is my main priority-  and hopefully knowing that will put you at ease.

I notice you opted for the clothed training.  Even though we are training for a stronger erection - erections are not needed (though can happen) and your penis never needs to make an appearance! Hopefully that will help you feel more relaxed! We can go with the flow on the day which will start with some questions. A few can be answered now if you wish, or save them for when we meet...

How is your current erection quality?

How physically active are you in general life?

Are you generally relaxed and content, or stressed and anxious?

The only other preparation is to make sure you are well hydrated to ensure good blood flow and so helping with sensations you may experience from the exercises that you'll learn.

Perhaps you could outline just what a first meeting could include.




What happens in the first erection training session is very individual, but in your case I would offer you a welcome drink and a quick chat to put you at ease.

Then we would move up to the gym area for exercise and talk. It is at this point you have the option of choosing whether we proceed to be naked or remain clothed.

The exercise aspect in your case would be specifically for your pelvic floor - which is important in not only improving the physical but also the psychological aspects. We would also include a few testosterone boosting exercises that also can help.

In between all this I would want to discuss with you your thoughts/views on sex and you as a man. This may take minutes to resolve or multiple sessions, but there are many different ways to help improve, depending upon the issues raised. You state you are happy to be naked. This would be most helpful as it will help you to express your innermost thoughts as much as possible and develop that mind/body connection further.

However this all could change as I react to what I feel will help you the most.

Hopefully that has given you a flavour of a coaching session. Please feel free to ask any questions you may have.



Premature Ejaculation

| | |
| --- | --- |
| My only real issue is that I tend to orgasm very quickly. Is this something you could help with? | Premature ejaculation can be helped with some aspects of this training programme, so if you'd like some help to slow things down a little yes I can help, though be warned you have to put the work in. The more determined you are to resolve, then the more likely of a good outcome. A focus is needed - which evolves as you train. Once you get it then bingo! I'll be honest here many do get it but there are a few who don't and often in the end it seems to come down to attitude. So if you think you have the right attitude then I may be able to help you slow things right down - real slow! |
The Erection Training Sessions
Post Covid - I no longer have a training facility and so currently it's a mobile service only! If interested in a training session - contact me and we can discuss.
3 erection Kaizen Coaching Options