Health Training Get your whole body healthy - so that it performs as nature intended. This site contains nudity, in a healthy, naturalistic way - purely to help men that may needlessly be suffering with erection problems If you are expecting anything other than health & fitness guidance - this is not the place for you, please leave now.  if you'd like to improve your health & fitness, to help your body respond as nature intended, you are most welcome here...

Introducing  T hrobbing Erection Guide | Natural, Naked & Unadulterated!
Video: Add an extra Element to Further Boost Testosterone
Here's the video in Semi
Click for Video
Here's video taster in Throbbing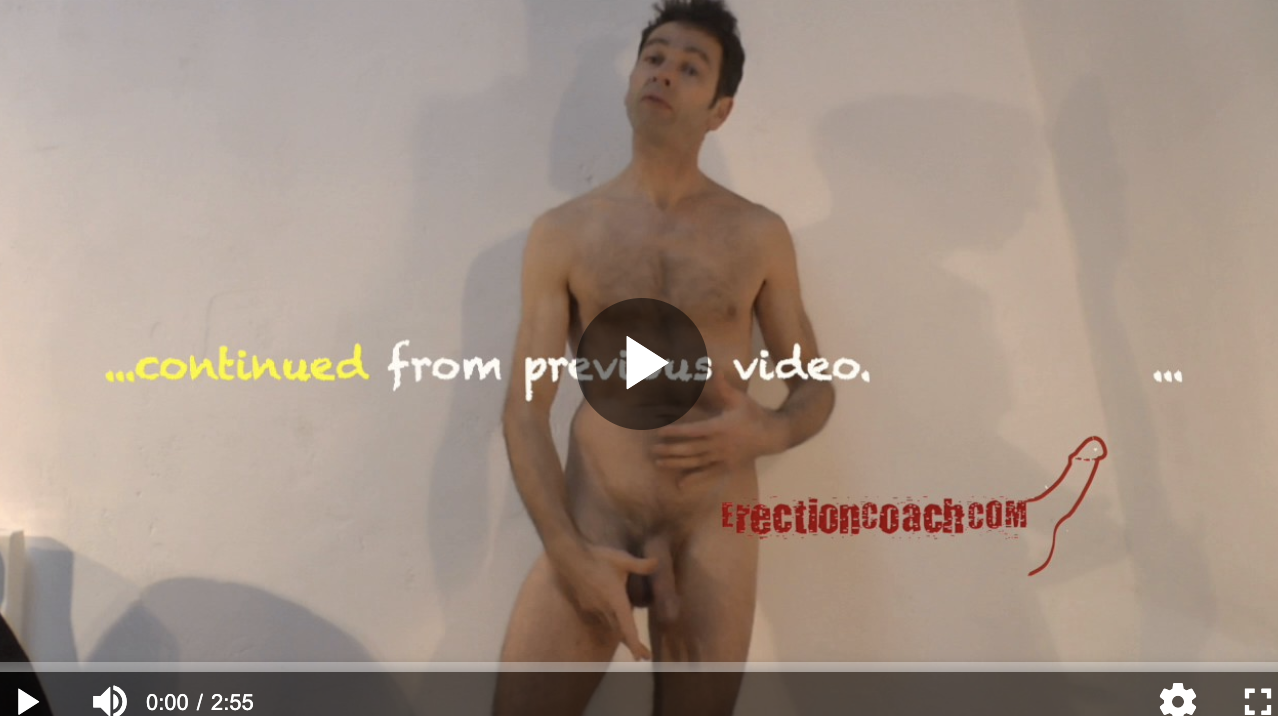 Click for Video
The Throbbing  harder erection guide has lots of extra:
Plus me!...
A More Personal Coaching Experience
email me anytime.
In Throbbing Harder erection guide I am being very personal (naked and sometimes erect) and so I hope this helps you feel you can also be personal with me if you wish. This may help you get more from your training - talking about your progress, your problems plus any individual questions you may have.  
In the guide I share with you some personal details about my own erection problem and improvements if this may help you.
Video Sharing for a more personal service.
If you'd like to either:
demonstrate your progress
or have me check your technique
I'll give you the link for sharing your photos or videos with me.
Mine are available for all Throbbing Members to view. 
Testosterone Fuelled Erection  
As we age testosterone decreases - this exercise turns it al around and naturally boosts testosterone levels in your body (the wide stance) plus with a shot extra due to adding a sexual element  and is capable of giving a hands free erection!
Here's the video in 

Semi
Here's video taster in Throbbing

With full explanations alongside as opposed to in the video with semi.
Throbbing 

 Harder Erection Guide    Natural, Naked & Unadulterated!
Part 4 In this video I do get a hands free erection whilst doing the X Pose to boost testosterone levels, but the sole purpose is to boost testosterone levels for more erection in the future. Any erection during the exercise is just a bonus and adds a bit more effectiveness and enjoyment - it's really important to know not to force that erection as I explain in Part 2  and in the full video above.
Some days I will not get an erection when doing this exercise. It took me a lot of practice (calming my mind) to achieve this so if like me you're not a natural, don't expect an erection - just think of nothing but your body. (easier said than done!) and then in time who knows what you can expect!
Join Throbbing  Harder Erection Guide
A full on coaching programme of videos and information pages to stimulate your whole body and mind to give you stronger erections. Comes with personal email help/communication from me. (No Skype though!)

There's a lot to look forward to!

Get the password - Join Incognito or In Person…...
Contact me .kwest@erectioncoach.com - telling me what you'd like to gain from coaching

I'll reply back with payment options,:
| | |
| --- | --- |
| | access until: 1st April 2020 £45  |
| | access until: 30th December 2020 £90 |
| | Special deal, depending upon what you hope to gain. |
Once you're a member - Independent or Connected?
Once payment has been made you can:  

access all areas of Throbbing Harder Erection Guide 
stay in contact or incognito as you wish. I'll only contact you monthly with the new password.
To Become a Throbbing Member and Access all areas contact me here: kwest@erectioncoach.com
Gaining a Stronger Erection
With many ways to improve your erection quality - the difficulty is knowing what aspect to improve,.
Gaining an erection is as simple as more blood flowing in to the penis - but the story behind this is more complex. An erection can be initiated purely from physical stimulation, or from the mind, or both. Then once an erection occurs it needs to be maintained, which again can be as a result of either the physical, psychological or both. Sometimes we do not need to worry about the cause of any problems and just enjoy each aspect of the training which all combine together to give you every chance of a stronger erection. However if you are a member of the Throbbing HARDer Erection Guide with any erection concerns, please feel free to contact me about which training aspect would be most beneficial to you. Sometimes there may be no clear answer as even the physical side of things requires a calm mind, free of anxiety, and so sometimes all the following combined can be a great way forward.:
Content and free of anxiety (the physical can help this happen)
Blood flow - many different ways to increase the amount of blood flowing in to your penis.
Erection muscle - (responsible for building pressure of blood in penis and like other muscles  weakens with age, but can be strengthened)
Psychological - your mind can initiate an erection and keep it.
Within all of these elements there are many other categories. You can choose to just pick what you would like to work on from the index or let me take you through the guide by: clicking on the dick! (at the bottom of each page! 

The best way is what feels right for you, as the more you enjoy it the better the results. 
If you don't have a problem but intrigued to see how hard and throbbing you can be - just enjoy using the guide in any way you like.
Always remember If you do have an erection problem Sometimes you don't need to be concerned about the cause as it can be an element of all, or a physical problem initially turns into a psychological also. In which case multiple aspects will help, but the main priority is always  to relax and enjoy your training as contentment really is the best boost you can give your erection.   However if you did want to know what to concentrate upon I'll be pleased to help you where I can.
index
---
There's a lot there so take your time - and either:

very gradually work through over the next few years 
or just cherry pick whatever appeals
either way savour the improvements to your body & mind - and ultimately your sexualness as you go!
No rushing - no pressure, just in your own time!
.
.